Krosskulture beautiful summer unstitched collection is a burst of fresh colors, perfect for the upcoming months! The range comprises of pure seasonal fabrics and viscose chiffon duppattas- breezy and comfortable! Each piece comes with a jacquard front, pretty embroidered adornments and a mix of bold, floral and geometric prints! We have our eyes on the monochrome, chevron number contrasted with bright and vivid floral patterns; love how they've stitched it angharka style with flared pants! These prints would look absolutely chic in trendy and contemporary silhouettes. So ladies what are you waiting for? Grab your favorites from stores and online!
It is true to the words that clothes can never be enough when it comes to women's shopping, but usual routines ask for basic wear clothing than the fancy fabrics. Be it a working woman or a university person, she is bound to have a huge collection of basic wears in vibrant tints or shades to go with fabrics that be just right ones to beat the heat. Colors of reef, neon, and enchanting pastels all are captivating enough to support the new arrival florals. Very rarely would women need their closets to be loaded more with formals and party wears than having causals. Why not bring in the prevailing trends to adopt shape in our everyday casual kurtis and kurtas rather than wasting money, efforts and style planning on those fabrics which you won't be wearing very often from Pakistani brands online.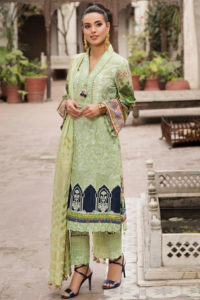 First things first, what is the occasion. Depending on your purpose you should make the final decision. For instance, if you are looking for a shalwar kameez for a formal function you can go for readymade traditional Pakistani style shalwar kameez. Depending on your budget and your requirements you can decide the amount of work on your shalwar kameez. Also you need to take into considerations your comfort level. If you are planning to dance at your friend's wedding then a shalwar kameez with heavy work can restrict your free movements. For such occasions you can choose bold colors and trendy designs on soft fabrics. This will make sure that you stand out from the rest of the crowd and also help you dance freely.
At first, embroidery was only limited to wedding seasons and fancy fabrics like chiffon or velvet but as soon as the lawn fever entered the country, we can now see the embroidered women lawn suits everywhere. Pakistani women love embroidery and block a print maybe that's the reason it was acknowledged and valued swiftly. Lawn is now considered as a well-known and proud outfit to hang out with.  Each embroidered lawn suit has its own unique style. Unstitched fabric online Pakistan is getting more famous and trending. These dresses are now available even with chiffon dupattas and stunning motifs and borders to get a more presentable and eye-catching effect.
In their low cost women's clothing store you will find several models that will fulfill all your expectations. Do not wait more go and check online store. Click here for more details.