In front of a shelf full of pants, it is sometimes difficult to know which shapes to favor according to your silhouette. Rather wide, rather slim, rather high waist, what material to take? In short, are you lost? Don't worry; I'm here to guide you through this difficult task of the perfect pants!
Through the 6 body types: X, 8, A, V, H and O. I will give you my advice on choosing your women pants online UAE and the materials for your pants.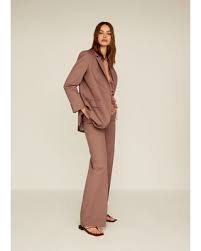 Morphologies in X or 8
Your shoulders and hips are the same width and you have the marked waist. Lucky you can wear almost anything. However, prefer pants that mark your waist, such as high-waist pants, whether they are straight or wide. Cigarette, pleated or tailored pants will lengthen your figure.
You can very well wear wide pants, for that think of re balancing the silhouette at the top with a top that will mark your shoulders.
Regarding the materials, you can put everything, from fluid material to heavier material. It's all about the proportion and the silhouette you want to highlight.
Want to wear very wide pants and high waist, 2 options are available to you, wear it with a very close to the body and tight top, which will mark your waist, second option, wear it with a fluid blouse with ruffles to accentuate the X side of your figure.
Morphology in A
Your hips are wider than your shoulders. It is necessary to re balance the silhouette by bringing volume to the upper body while marking the waist.
Choose straight pants, wide pants but close to the body and dark colors. On the other hand, go for color for your tops and shirts, to draw the eye to the top of the silhouette.
Regarding materials prefer flowing materials such as flannel wool, silk, which are aerial materials. Avoid 7/8 pants and tight pants.
Morphology in V
Your shoulders are wider than your hips. You have to bet on the bottom of the silhouette, expand it. Choose wide, high-waist pants that will give volume to the silhouette. Also 7/8 pants, carrot pants and pants with visible pockets on the side.
Regarding materials, wear rather heavy materials, thick flannels, thick cottons, corduroys. However, avoid pants that are too slim and too skinny, which will accentuate the V side of your silhouette.
Morphology in H
Your shoulders, waist and hips are in one line. Your goal is to create a waist, by marking the curves at the top and bottom of the body. Regarding materials, jeans and cottons are your favorite materials.
Avoid high waist, baggy pants and flared pants. Sophie heather blue wool straight-leg pants.
Morphology in O
You with a big bust, a bit of a stomach, your goal is to have a more casual look and to mark your waist.
Choose slim pants or stretch pants. You can also wear wide or high-waist pants, so think about slimming your upper body and wearing V necklines. Also think about choosing flowing materials.
Regarding materials, choose fluid materials and with elastin. Avoid pants that are too wide or too tapered, which will accentuate your curves on the lower body.
For more details, please visit: holaamor.org